Visibility-as-a-Service
The shortest path to improved problem resolution times

Visibility-as-a-Service is designed for ITOM and DevOps teams looking for fast troubleshooting while transitioning from re-active to pro-active without significant investments in time and money. This includes Troubleshooting-as-a-Service with the shortest possible problem resolution times based on quick and substantiated answers to questions like:
What applications are consuming the bandwidth of my network and storage?
What are the actual(!) relationships between your applications, networks, systems and storage/data paths
How healthy are these relationships and what is their performance?
If the application performance is not as expected, what is causing the delays?
Which users, user devices, services and network annex storage paths are affected?
No upfront investments and long lead times
The enabler behind Visibility-as-a-Service is a subscription based NPM and APM type of visibility solution which includes Application, TCP session data and Storage Analytics.
These type of solutions are experienced as complex, expensive and time consuming to get started. However, our as-a-Service offering minimizes these aspects to the bare minimum.
Collaboration and change control improves significantly when questions are answered quickly by combining pro-active monitoring with improved troubleshooting and the right level of expertise.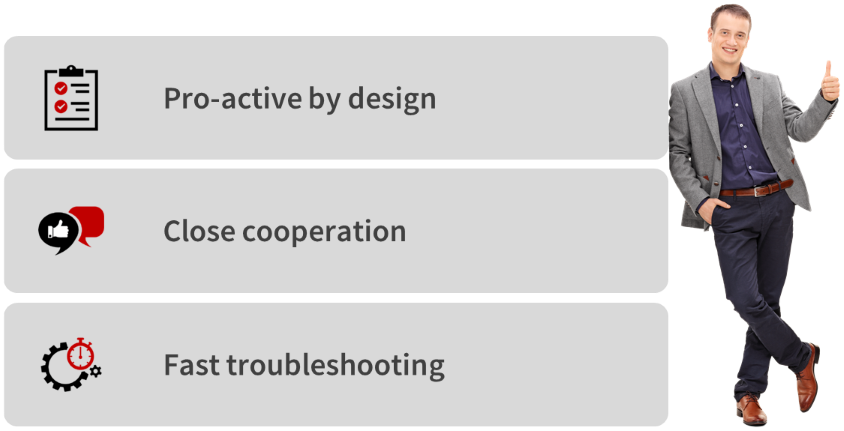 Actively contributing to your goals
The 5 area's of which we make a real difference in achieving your goals are:
Inventory of your applications, their real users and their bandwidth annex storage consumption.
Fix network and application issues before and after migrations:

from traditional to hybrid networks
storage and datacenter consolidations
applications to IaaS (Infra-as-a-Service), PaaS (Platform-as-a-Service) and SaaS (Software-as-a-Service)

Right-size your existing and new (SD-)WAN and storage environment.
Improved collaboration between the different DevOps and ITOM teams.
Quick and smooth deployments of new applications.
The size of your application environment and the lead time of your programs and projects are considered the most important requirements when designing a scalable solution and the lead time of the subscription.
The next step
Please fill in the form on the top on the top right hand of this page and we are happy to demonstrate how we can contribute to your business goals with Visibility-as-a-Service!
Additional information is available here (English) and here (Nederlands).
Learn more

Please fill in this form if you want to know more about Visibility-as-a-Service.
360 degrees and granular
Every user session, every application transaction and every network annex storage path
24×7, near real-time visibility on business activities and application transactions
100% of the application transactions and network traffic is analyzed; going from OSI layer 2 to application transactions
All details about performance and error conditions are stored for at least one week
End-to-end, multi-segment analysis without a packet analyzer
Scope of transaction analysis
Web applications (HTTP | HTTPS)
Native apps ( iOS and Android )
Web API calls
dot-Net, Java, Ruby-on-rails, PHP and Node.js
Databases (all industry standard SQL flavours)
Domain Name Services (DNS)
File and print sharing (aka SMB/Samba)
VoIP
Microsoft Services (RPC)
Citrix (NetScaler & XenApp)
Flexible and affordable
Delivered by experienced, certified performance engineers who …
… have a passion for application chains, application code and network packets
Available when needed; remotely as well as on-site
Financially attractive: flexible subscriptions and minimal upfront investments
Significant savings because costly, time consuming war-room type of problem analysis are prevented